Acrylic Ponchos are light weight and colourful which means that they look great however they are also amazingly warm. Although they are made from a lightweight acrylic material, it really  helps to keep in the heat which makes them a great addition to your hippy wardrobe.
Acrylic Poncho
Over the years we have discovered that as well as being used for wearing in the garden on a nice summer evening or lounging around the house on a cold winters day, poncho's have become and absolute must and an essential for all festival goers and have fast become a staple part of festival clothing.
These acrylic ponchos are also known as blanket ponchos because of the blanket type material they are made from which means that much like a blanket, these made from acrylic wool are sooooo soft and snuggley.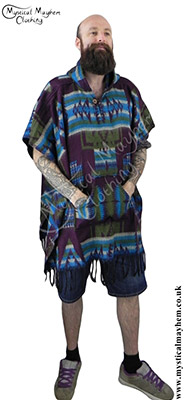 Acrylic wool has been used in the production of modern hippy clothing for some time now due to its low cost and soft feel.  Acrylic wool ponchos have become increasingly popular as they are light weight and can be folded to small sizes so that they are easy to carry around when you are not wearing them. Although the acrylic is lightweight, they still offer a great amount of warmth which sometimes makes them an easier solution then our larger heavier cotton ponchos.
These popular acrylic ponchos come in such a variety of styles and designs. We have your usual standard shaped ponchos and we have some that are diamond shaped .
The diamond shapes are a little more popular with the ladies. We also have some ponchos that are sewn down the sides and some with small sleeves with an open front which makes allows them to be a little airier should you choose. These poncho's are great for any occasion, off to a festival, sat around a campfire with friends we have the poncho for you. Make one part of your hippy clothing collection today.
Our Poncho's
As well as different styles, our ponchos also come in a variety of designs and colours. We have striped, patterned, Aztec, embroidered and much more. We really do have something that everyone will love.
Each poncho has a hood and most have a kangaroo pocket but please see each the description for each as they do differ from each producer and with each style.
All of our acrylic ponchos have been handmade with great care in India and have been crafted from 100% Acrylic Wool .
As well as a lovey treat for yourself, these poncho's make wonderful gifts for friends and loved ones.